Social Distortion es una banda de

punk

-rock fundada en 1978, en Orange County,

California

. La banda está formada actualmente por Mike Ness (cantante y guitarra solista), Jonny Wickersham (guitarra rítmica), Brent Harding (bajo) y David Hidalgo, Jr. (batería).




La banda se separó brevemente en 1985, debido a problemas de su líder Ness con las drogas. Un año después volvieron a los escenarios hasta permanecer activos hasta el día de hoy, incluso tras la muerte del guitarrista Dennis Danell, que falleció en el año 2000 a causa de una aneurisma cerebral. Desde su formación, la banda ha sufrido constantes idas y venidas de músicos, aunque Ness ha sido el único miembro original que aún permanece en la banda. La formación clásica de

Social Distortion

es el propio Ness en la guitarra y en las voces, Danell como guitarrista, John Maurer como bajista y Chris Reece en la batería.




Hasta la fecha, la banda californiana ha lanzado siete álbumes de estudio, dos recopilatorios, un disco en vivo y dos DVDs.
3. It Wasn't a Pretty Picture
4. Telling Them
5. Hour of Darkness
6. Mommy's Little Monster
7. Anti-Fashion
8. All the Answers
9. Moral Threat
02- Prison Bound (1988)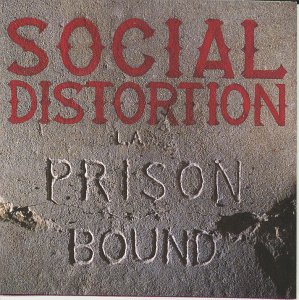 1. It's the Law
2. Indulgence
3. Like an Outlaw (For You)
4. Backstreet Girl
5. Prison Bound
6. No Pain No Gain
7. On My Nerves
8. I Want What I Want
9. Lawless
10. Lost Child
03- Social Distortion (1990)
1. So Far Away
2. Let it Be Me
3. Story of My Life
7. It Coulda Been Me
8. She's a Knockout
9. A Place in My Heart
10. Drug Train
1. Cold Feelings
2. Bad Luck
3. Making Believe
4. Born to Lose
5. Bye Bye Baby
6. When She Begins
7. 99 to Life
8. King of Fools
9. Sometimes I Do
10. This Time Darlin'
11. Ghost Town Blues
1. Dear Lover
2. Don't Drag Me Down
3. Untitled
4. I Was Wrong
5. Through These Eyes
6. Down On the World Again
7. When the Angels Sing
8. Gotta Know the Rules
9. Crown of Thorns
10. Pleasure Seeker
11. Down Here (w/ the Rest of Us)
12. Under My Thumb
06- Sex, Love and Rock 'n' Roll (2004)
1. Reach For The Sky
2. Highway 101
3. Don't Take Me For Granted
4. Footprints On My Ceiling
5. Nickels And Dimes
6. I Wasn't Born To Follow
7. Winners And Losers
8. Faithless
9. Live Before You Die
10. Angel's Wings
11. Angel's Wings (Acoustic)
12. Shame On Me (Bonus)
13. Don't Take Me For Granted (Radio Edit)
01. Road Zombie
02.
California
(Hustle and Flow)
03. Gimme The Sweet And Lowdown
04. Diamond In The Rough
05. Machine Gun Blues
06. Bakersfield
07. Far Side Of Nowhere
08. Alone And Forsaken
09. Writing On The Wall
10. Can't Take it with You
11. Still Alive