The Ducky Boys (no confundir con la banda

punk

neoyorquina, de la década del 80, que llevaba el mismo nombre) es una banda de street

punk

, formada en 1995 en Boston, Massachusetts. El grupo toma su nombre de una pandilla irlandesa que aparece en la película "The Wanderers". Son lidereados por Mark Linkd (bajista y vocalista) y entre sus influencias se encuentran bandas como The Clash, Rancid, Social Distortion y Bruce Springsteen.Tienen un estilo musical similar al de

Dropkick Murphys

.
01- No Gettin' Out (1997)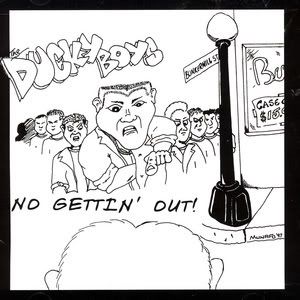 1. I'll Rise Up
2. I Don't Give A Shit
3. Pride
4. The Way It Used To Be
5. Cross To Bear (Walk Proud, Stand Tall)
6. Get Out Of The Way
7. Always Be There
8. Nobody's Hero, Nobody's Fool
9. I'll Go Back
10. Regrets
11. On My Own
12. What's Wrong
13. The River
14. White Slum
15. Bad Moon Rising (Bonus Track)
Descargar: https://mega.nz/#!YZcyXKiQ!zgKL4L0CnmC_CJbjXZNbagRxcBHSIy0R9JU365WLVR8
02- Dark Days (1998)
1. these are the days
2. out of the rut
3. me against the world
4. do you wrong
5. well find a way
6. all for one and one for all
7. i've got my friends
8. fourteen
9. i'll rise up
10.another day
11.a better life
12.misfit
13.no tales to tell
14.the ballad of the forgotten
Descargar: https://mega.nz/#!oFUn3YYK!zJulbZymXiy9qq6A06x0PxhfTu0TjsMSekpjbG0te1U
03- Three Chords and The Truth (2004)
01-Boston, USA
02-Pass you by
03-Alone tonight
04-Scars
05-Fight
06-For the underdogs
07-Stand by me
08-Hanging on
09-This place
10-The long road
11-Ain't it a shame
12-Untitled
13-Break me
14-Looking back
15-Richmond skyline
16-Crumbling heart
Descargar: https://mega.nz/#!cV92WISY!3Ra6wFrR1LhEq-y0aqB0TQiMsgZIPJYZH4TSWaFEQ6g
04- The War Back Home (2006)
01. Celebrate
02. The Middle Children of History
03. Tortured Soul
04. Isolation
05. Kids
06. Two Thieves and a Savior
07. City Girl
08. Bombs Away
09. Corporate America
10. Outlaw
11. This Time Last Year
12. Contrived and Treacherous
Descargar: https://mega.nz/#!0ANBRATQ!eBcCewUS82b37WOD0GzO7iTq0d_knSEkX9Tmke8yhZE
05- Chasing The Ghost (2012)
1. New Chapter
2. Nobody's Home
3. Won't You Come Home
4. Surrogates
5. I Guess I'm Broken
6. Getting Better
7. You Sing the Chorus
8. An Angel Like You
9. Cure Me
10. Goodbye and Good Luck
11. Hey Liberty
12. I Lied
13. That Which Doesn't Kill Me
14. Feeling Alive
15. Medicine
16. The Sweetest Girl
17. There's Always Another Way
Descargar: https://mega.nz/#!BdUQlThI!di8BS3Opbm5K0hW2V9rD_JTtd2ZMQGOYP_jzNdcsrTI
06- Chemicals (2012)
1. Chemicals
2. Down the Line
3. Come Closer
4. Pretty Bad Year
Descargar: https://mega.nz/#!0FMQRaCS!4SpEf4Y57h5NZFgMBjA04kGugvkKrMdcl2jb1wQCVq8
07- Dead End Streets (2013)
01. You Don't Wanna Know Me
02. Enough Of My Time
03. Nothin' About You
04. Disappear
05. Live Forever
06. The Time We're Given
07. I Was Intoxicated
08. Dead End Streets
09. Kick
10. The Gravest Generation
11. The Advantage
12. In The Scars
13. Damaged Goods
14. Up, Down & Wrong
15. 'Til The Wheels Fall Off
Descargar: https://mega.nz/#!sc0AXSjI!_PNrLgRQwW1XEfO4BHPM2-PsR59Uy0Zc9Y2T316EUbs