The Specials es una banda británica de ska (más precisamente del estilo que se conoce como 2 Tone) formada en 1977 en Coventry. Junto a Madness es una de las bandas más importantes que haya dado el género.
Empezaron tocando ska, punk y pop, y más tarde fusionaron todos estos estilos, creando un nuevo sonido que fue conocido como 2 Tone. Sus temas más conocidos incluyen A Message To You Rudy, Ghost Town (su máximo hit), Too Much Too Young y su debut, Gangsters.
The Specials ha influido a multitud de bandas alrededor del mundo, desde Rancid o Kortatu a No Doubt, pasando por los argentinos Karamelo Santo, Los Fabulosos Cadillacs y Los Pericos. Los miembros originales de la banda fueron Jerry Dammers, Terry Hall, Roddy Radiation, John Bradbury, Sir Horace Gentleman (también conocido como Horace Panter), Lynval Golding y Neville Staples.
Naturalmente al pertenecer al estilo de la música "Ska" tenían una visión antirracista y de unificación por la libertad, haciendo canciones como por ejemplo a Nelson Mandela, quien en ese entonces se encontraba preso.
01- The Specials (1979)
1. A Message to You Rudy
2. Do the Dog
3. It's Up to You
4. Night Klub
5. Doesn't Make It Alright
6. Concrete Jungle
7. Too Hot
8. Monkey Man
9. (Dawing of a) New Era
10. Blank Expression
11. Stupid Marriage
12. Too Much Too Young
13. Little Bitch
14. You're Wondering Now
02- More Specials (1980)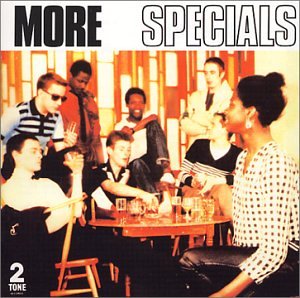 1. Enjoy Yourself
2. Man At C&A
3. Hey, Little Ritch Girl
4. Do Nothing
5. Pearl's Cafe
6. Sock It To 'Em J.B.
7. Stereotypes (Parts 1 & 2)
8. Holiday Fortnight
9. I Can't Stand It
10. International Jet Set
11. Enjoy Yourself (reprise)
03- In The Studio (1984)
01-Bright Lights
02-The Lonely Crowd
03-What I Like Most About You Is Your Girlfriend
04-Housebound
05-Night on the Tiles
06-Nelson Mandela
07-War Crimes08-Racist Friend
09-Alcohol
10-Break Down the Door
04- Singles (1991)
01. Gangsters
02. Rudy, A Message To You
03. Nite Klub
04. Too Much Too Young
05. Guns Of Navarone
06. Rat Race
07. Rude Boys Outta Jail
08. Maggie's Farm
09. Do Nothing
10. StereoType
11. Ghost Town (12" Version)
12. Why
13. Friday Night, Saturday Morning
14. Racist Friend
15. Nelson Mandela
16. (What I Like Most About You Is Your) Girlfriend
05- The Singles Collection (1991)
1. Gangsters
2. Rudi, a message to you
3. Nite klub
4. Too much too young (Live)
5. Guns of Navarone (Live)
6. Rat race
7. Rude boys outta jail
8. Maggie's farm
9. Do nothing
10. Stereotype
11. Ghost town (12'' Vers.)
12. Why?
13. Friday night, saturday morning
14. Racist friend
15. Free Nelson Mandela (Ext. Vers.)
06- King of Kings (Desmond Dekker & The Specials) (1993)
01 Sammy Dead
02 Fat Man
03 Easy Snapping
04 Garry Go Bring Home
05 Dancing Mood
06 Humpty Dumpty
07 King Of Ska
08 Oil In My Lamp
09 Take It Easy
10 Wings Of A Dove
11 King Of Kings
12 Jamaica Ska
07- Today's Specials (1996)
1. Take Five
2. Pressure Drop
3. Hypocrite
4. Goodbye Girl
5. A Little Bit Me, a Little Bit You
6. Time Has Come
7. Dirty Old Town
8. Somebody Got Murdered
9. 007
10. Simmer Down
11. Maga Dog
12. Bad Boys
08- King of Ska (Desmond Dekker & The Specials) (1998)
1. Sammy dead
2. Fat man
3. Easy snappin
4. Carry go bring come
5. Humpty dumpty
6. King of ska
7. Take it easy
8. Wings of a dove
9. King of kings
10. Jamaica ska
11. 007 [shanty town]
12. Israelites
13. Rudie got soul
1. Tears in My Beer
2. Call Me Names
3. Fearful
4. It's You
5. Bonediggin'
6. All Gone Wrong
7. No Big Deal
8. Leave It Out
9. Keep on Learning
10. Fantasize
11. Place In Life
12. Stand Up
13. My Tears Come Falling Down Like Rain
14. The Man With No Name
15. Running Away
16. Rat Race (Live)
17. Concrete Jungle (Live)
18. Gangster (Live)
10- Skinhead Girl (2000)
1. I Can't Hide
2. Blam Blam Fever
3. Jezebel
4. El Pussycat Ska
5. Soldering
6. You Don't Know What I Like
7. Memphis Underground
8. If I Didn't Love You
9. Them a Fe Get a Beatin
10. Napoleon Solo
11. Skinhead Girl
12. Fire Corner
13. Bangerang Crash
14. I Want to Go Home
15. Old Man Say
11- Conquering Ruler (2001)
1. Jezebel
2. Tom Drunk
3. Take Me as I Am
4. Conquering Ruler
5. Decimal Currency
6. Promises
7. Double Barrel
8. Keep My Love from Fading
9. Rough and Tough
10. Foolish Plan
11. I am a Madman
12. Salvation Train
13. Lorna Banana
14. Return of Django
15. I Don't Need Your Love Anymore
12- Stereo-Typical A's, and B's and Rarities (2000)
01 Gangsters
02 A Message To You Rudy
03 Nite Klub
04 Too Much Too Young
05 Guns Of Navarone
06 Skinhead Symphony
07 Rat Race
08 Rude Boys Outa Jail
09 Stereotype
10 International Jet Set
11 Do Nothing
12 Maggie's Farm
13 Braggin' And Tryin' Not To Lie
14 Rude Boys Outa Jail (Version)
15 Ghost Town
16 Why
17 Friday Night, Saturday Morning
18 Concrete Jungle (Live)
19 Racquel
01 The Bolier
02 Theme From The Boiler
03 Jungle Music
04 Rasta Call You
05 Easter Island
06 War Crimes (The Crime Remains The Same)
07 Version
08 Racist Friend
09 Bright Lights
10 Nelson Mandela
11 Break Down The Door
12 What i Like Most About You is Your Girlfriend
13 Can't Get a Break
14 Nelson Mandela '88
15 Ghost Dub '91
16 Let us Unite
01 Ghost town (Extended version)
02 Why
03 War crimes
04 Racist friend (Instrumental)
05 Bright lights (Instrumental)
06 Nelson Mandela
07 Break down the door
08 What I like most about you is your girlfriend
09 Can't get a break
10 Nelson Mandela '88
11 Ghost dub '91-Let us unite