La banda punk de California del sur, Pulley, fue formada cuando Scott Radinsky, al irse de Ten Foot Pole, llegó tras el deseo de la banda de un vocalista con un enfoque a tiempo completo en la música (Radinsky es también un pitcher de béisbol de ligas mayores y ha jugado para los Dodgers de Los Angeles, entre otros). La formación inicial de Pulley incluía al baterista Jordan Burns (también ex-Ten Foot Pole), quien estaba en la banda pre-Ten Foot Pole, llamada Scared Straight, con Radinsky y también conciertos con Strung Out; el guitarrista Jim Cherry, que formaba parte de Strung Out (en el bajo); el guitarrista Mike Harder, quien estuvo brevemente en Scared Straight; y el bajista Matt Riddle, el cual formaba parte de Face to Face. El disco debut de Pulley,
"Esteem Driven Engine"
, fue lanzado en 1996 por Epitaph; Riddle entró a No Use for a Name después de eso, por lo que fue reemplazado por Tyler Rebbe. El siguiente disco,
"60 Cycle Hum"
, apareció en 1997, con el tiempo la banda fue cambiando algunos de sus integrantes, los que salieron en el tiempo fueron Burns y Cherry, y entraron en su reemplazo Tony Palermo en la batería y Jim Blowers en la guitarra.
Pulley lanzó su tercera placa, la cual lleva el mismo nombre de la banda, en el 99.
El cuarto disco,
"Together Again For The First Time"
(2001), fue producido por Ryan Greene, al igual que el disco anterior.
Y su último disco,
"Matters"
, lanzado en el 2004, fue producido por Matt Hyde.
Aportado al blog por PuNKiTa
01- Esteem Driven Engine (1996)
1. Cashed In
2. Crawl
3. Eyes Open Wide
4. Wok Inn
5. Four Walls
6. One Shot
7. Barf
8. She
9. Lifer
10. No Defense
11. Silver Tongue Devil
12. S.F.B.I.H.Y.D.
13. Seain' Different
14. All We Have
02- 60 Cycle Hum (1997)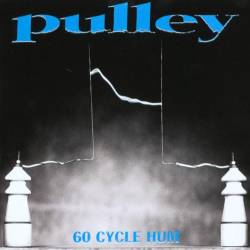 1. If
2. Locked Away
3. Havasu
4. Reality
5. Mandingo
6. Scab
7. Where Are You Now
8. Hold On
9. Padded Cell 4 Walls (Pt. 2)
10. Noddin' Off
11. Separated
12. What
13. Endless Journey
14. Outside Opinion
03- @#! (1999)
1. Working Class Whore
2. Soberbeah
3. Pie
4. Gone
5. Over It
6. Darkside
7. Nothing to Lose
8. Second Best
9. Just for Me
10. Dog's Life
11. Sick
12. Intro / Outro
04- Together Again For The First Time (2001)
1. In Search
2. Hooray for Me
3. History Repeats Itself
4. Fuel
5. Empty
6. Lost Trip
7. Touched
8. Runaway
9. The Ocean Song
10. Destiny
11. Leather Face
12. Same Sick Feeling
13. Silence
05- Matters (2004)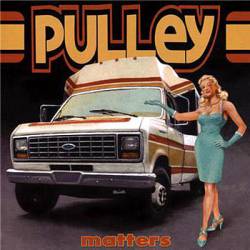 1. A Bad Reputation
2. Blindfold
3. Huber Breeze
4. Insects Destroy
5. Looking Back
6. Poltergeist
7. Immune
8. YSC
9. Stomach Aches
10. I Remember
11. Suitcase
12. Thanks
06- Split: The Slackers + Pulley (2004)
01- The Slackers - Sarah
02- The Slackers - Keep It Simple
03- The Slackers - Donde Fue
04- The Slackers - I Shall Be Released
05- The Slackers - Propaganda Dub
06- Pulley - Stumped
07- Pulley - Good Guys Don't Wear White
08- Pulley - Salad Days
09- Pulley - Speakeasy
07- Beyond Warped (Live Music Series) (2005)
01- Runway (Live)
02- One Shot (Live)
03- The Ocean Song (Live)
04- What Will They Do (Live)
05- Insects Destroy (Live)
06- If (Live)
07- Cashed In (Live)
08- In Search
09- Huber Breeze
10- Poltergeist
Descargar: https://mega.nz/#!FdoxUK7K!6p-bh0p9kbM4h2Bvf7Ir9MGgSQ71YcRn_NB7evzT1ZQ
08- Time-Insensitive Material (EP) (2009)
1. The Never Ending
2. Ghost Inside My Skin
3. Mandarin
4. Enemies
5. Rattling Rust
09- The Long And The Short Of It (EP) (2011)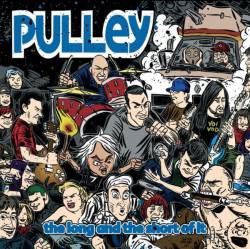 1. No Man's Flute
2. The Long and the Short of It
3. Which Way to Go
10- No Change In The Weather (2016)
1- No "I" In Team
2- Different
3- Fixing The Drought
4- Sometimes
5- Farewell
6- Walk Away
7- Friends
8- The Other Side Of Silence
9- Syndrome
10- Black Box