Face To Face es un grupo punk rock originario de Victorville, California, fundado en 1991 por Trever Keith, único miembro constante en la historia del grupo. En sus inicios fue uno de los grupos mas importantes en el renacimiento del punk en los años 90, junto a grupos como The
Offspring, Green Day, Bad Religion, NoFx, Pennywise o Rancid entre otros.
En 1988, Keith (guitarra y voz) y su amigo de instituto Matt Riddle (bajo) deciden formar un grupo al que llamarían "Zero Tolerance" junto a otros músicos de la zona. Aunque esta banda no grabo ningún disco, si grabaron alguna demo y dieron varios conciertos en la zona. Tras el abandono de su segundo guitarrista, Mark Haake en 1991, el grupo se convierte en un trío y cambia su nombre por el de Face To Face.
El grupo sigue dando conciertos por toda la zona de Inland Empire y Orange Country. Pronto se convierten en uno de los grupos favoritos entre los seguidores punk de la zona junto a bandas como The Offspring, Guttermouth y Voodoo Glow Skulls entre otros.
En 1992 el grupo entraría en el estudio en lo que era su primer disco de estudio titulado
"Don´t Turn Away"
bajo el sello Dr. Strange Records, suponiendo un gran debut para la banda.
En 1993 y tras girar por primera vez por Europa, añade a su formación a un segundo
guitarrista llamado Chad Yaro y deciden entrar al estudio para grabar su segundo disco. Para este
disco Face To Face decide irse a una discográfica que le proporcione mayor difusión y fichan
por Victory Records. El disco se titularía
"Big Choice"
.
El sello estaba nervioso por la incertidumbre de cómo seria la distribución del disco y como prueba, decide sacar semanas antes un Ep de rarezas titulado "Over It", con una versión de la canción del primer disco de la banda titulada "Disconnected". Esta canción empieza a sonar en la radio y tiene
bastante éxito, por lo que la discográfica decide añadirla en el disco Big Choice.
La banda ya era de las mas conocidas de la escena punk en pleno apogeo de grupos como The Offspring y Green Day, que estaban vendiendo millones de copias de sus discos por todo el mundo.
Face To Face decide en esos momentos fichar por una multinacional (A&M Records) para grabar
su tercer disco de nombre homónimo,
"Face To Face"
(1996). El disco consigue un moderado impacto y aunque vende muchas copias, no cumple las expectativas de la multinacional que seguramente buscaban otros "Offspring" intentando aprovechar la nueva oleada punk.
Tras este disco el grupo vuelve a sufrir el abandono de algunos miembros y cambios de formación
constantes, donde solo Trever Keith continuaría de la formación original. Face To Face graba
en 1999 su disco
"Ignorance is Bliss"
, al que le siguen
"Reactionary"
(2000),
"Standards & Practices"
(2001) y
"How to Ruin Everything"
(2002). Estos 3 últimos publicados en la discográfica de su manager Rich Egan, Vagrant Records.
Después de 7 discos el grupo decide disolverse en 2004 y sus componentes retoman su carrera musical en otros proyectos y grupos.
Desde su separación, los rumores sobre una nueva reunión de Face To Face fueron continuos. Y estos se confirmaron en 2008 cuando el grupo, a través de su pagina web, anunciaba su reunión
para volver a girar por Estados Unidos y Europa.
Aportado al blog por PuNKiTa
01- Don't Turn Away (1992)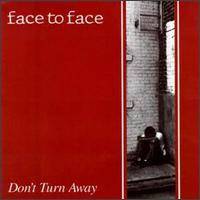 2. I'm Not Afraid
3. Disconnected
4. No Authority
5. I Want
6. You've Got a Problem
7. Everything Is Everything
8. I'm Trying
9. Pastel
10. Nothing New
11. Walk Away
12. Do You Care?
13. 1,000 X
02- Over It (EP) (1994)



0

3

- Big Choice (1995)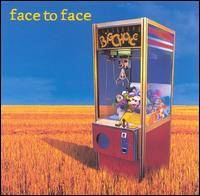 1. Struggle
2. I Know You Well
3. Sensible
4. A-OK
5. You Lied
6. Promises
7. Big Choice
8. It's Not Over
9. Velocity"
10. Debt
11. Late
12- Disconnected (Bonus Track)
13- Bikeage (Descendets Cover - Bonus Track)
14- I Used To Think (Bonus Track)
15- Not Enough (Bonus Track)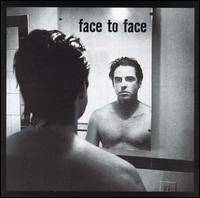 1. Resignation
2. Walk the Walk
3. Blind
4. Ordinary
5. I Won't Lie Down
6. Can't Change the World
7. Handout
8. Everything's Your Fault
9. Take It Back
10. Complicated
11. Put You in Your Place
12. Falling
01- Walk The Walk
02- I Want
03- Blind
04- I'm Not Afraid
05- It's Not Over
06- I Won't Lie Down
07- You Lied
08- Ordinary
09- I'm Trying
10- Telling Them (Social Distortion cover)
11- Don't Turn Away
12- A.O.K.
13- Complicated
14- Not For Free
15- Pastel
16- Do You Care
17- Dissension
18- You've Done Nothing
Descargar: https://mega.nz/#!P80kQRAJ!TmsH1pDCdBcOZi55nvAR40WmSnYR6YowT3JBaLMMYUM
06- So Why Aren't You Happy (EP) (1999)
03- Questions Still Remain
04- Everyone Hates A Know-It-All (Acoustic)
0

7

- Ignorance Is Bliss (1999)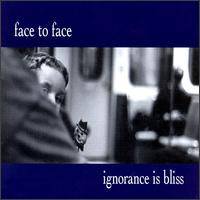 1. Overcome
2. In Harm's Way
3. Burden
4. Everyone Hates a Know-It-All
5. Heart of Hearts
6. Prodigal
7. Nearly Impossible
8. I Know What You Are
9. The Devil You Know (God Is a Man)
10. Pathetic
11. Lost
12. Run in Circles
13. Maybe Next Time
01- What Difference Does It Make¿ (The Smiths cover)
02- Chesterfield King (Jawbreaker cover)
03- Don't Change (INXS cover)
04- Sunny Side Of The Street (The Pogues cover)
05- Planet Of Sound (Pixies cover)
06-The KKK Took My Baby Away (Ramones cover)
07- Heaven (The Psychedelic Furs cover)
08- Merchandise (Fugazi cover)
09- Helpless (Sugar cover)
10- That's Entertainment (The Jam cover)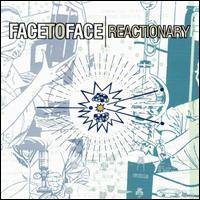 1. Disappointed
2. Out of Focus
3. What's in a Name
4. You Could've Had Everything
5. Hollow
6. Think for Yourself
7. Just Like You Said
8. Solitare
9. Best Defense
10. Icons
11. Shame on Me
12. Estranged
10

- How To Ruin Everything (2002)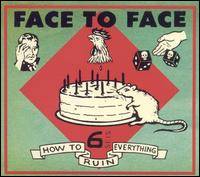 1. Bill of Goods
2. The Take-Away
3. 14 Hours
4. A Wolf in Sheep's Clothing
5. The New Way
6. The World in Front of You
7. Why Would I Lie?
8. Unconditional
9. Shoot the Moon
10. Graded on a Curve
11. Fight or Flight
12. Waiting to Be Saved
13. Double Standard
14. The Compromise
15. How to Ruin Everything
11- Split EP with Rise Against (2011)
02- Face To Face - The Good Left Undone
12

- Shoot The Moon The Essential Collection (Compilation) (2005)
01- Disconnected
02- I Want
03- You've Done Nothing
04- Pastel
05- Don't Turn Away
06- You Lied
07- Velocity
08- A-O.K
09- It's Not Over
10- Blind
11- Ordinary
12- I Won't Lie Down
13- Complicated
14- Walk The Walk (live)
15- I'm Trying (live)
16- Disappointed
17- What's In A Name?
18- Bill Of Goods
19- A Wolf In Sheeps Clothing
20- Thick As A Crick
21- Disconnected (live)
13- All For Nothing (EP) (2012)
01- All For Nothing (Single Version)
02- Major Tom Coming Home
03- Back On The Chain Gang
14- The Other Half (EP) (2013)
1

5

- Laugh Now, Laugh Later (2011)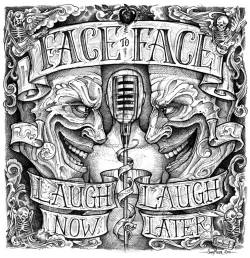 1. Should Anything Go Wrong
2. It's Not All About You
3. The Invisible Hand
4. Bombs Away
5. Blood in the Water
6. What You Came for
7. I Don't Mind and You Don't Matter
8. Stopgap
9. All for Nothing
10. Pushover
11. Under the Wreckage
1

6

- Three Chords & A Half Truth (2013)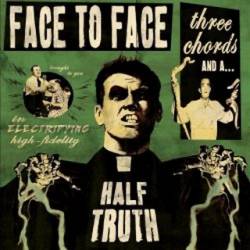 1. 123 Drop
2. Welcome Back to Nothing
3. Smokestacks and Skyscrapers
4. Right As Rain
5. First Step, Misstep
6. Bright Lights Go Down
7. Paper Tigers With Teeth
8. Flat Black
9. Jinxproof
10. Marked Man
11. Three Chords and a Half Truth
12. Across State Lines
13. Hardcase
02- I Won't Say I'm Sorry
08- It Almost All Went Wrong
1

8

- Say What You Want - I, Me, Mine (EP) (2017)
1

9

- Hold Fast (Acoustic Sessions) (2018)
20

- Live In A Dive (2019)
07- I Won't Say I'm Sorry
08- You Could've Had Everything
09- Should Anything Go Wrong