The Adolescents son una banda punk rock estadounidense formada en 1980 en la ciudad de Fullerton, California. Formada por los primeros miembros de bandas como Agent Orange o Social Distortion, se puede decir de ellos que fueron uno de los grupos pioneros de la escena punk hardcore junto con Bad Brains, Black Flag o Minor Threat entre otros.
Casi todo los grandes grupos de la escena punk de hoy en dia los citan entre sus influencias: NoFx, Face to Face, Bad Religion, Pennywise, The Offspring,…
The Adolescents se fundaron después de la salida de Steve Soto del grupo Agent Orange a finales
de 1979. La formación inicial se componía del cantante Tony Cadena, Steve Soto en el bajo,
Frank Agnew y John O´Donovan a la guitarra y "Peter pan" a la batería. El grupo sufriría innumerables cambios de formación a lo largo de los años.
En 1980 el grupo graba un single titulado "Amoeba" en el sello Posh Boy Records. Este single consigue sonar en la radio y aparecer en algunos recopilatorios, convirtiéndose rápidamente en uno de los clásicos de punk rock y en una de las canciones mas conocidas de la banda.
En 1981 The Adolescents ficha por la discográfica Frontier Records para grabar lo que seria su primer disco homónimo:
"Adolescents"
. Rápidamente el disco se convierte en uno de los discos mas vendidos punk de la escena californiana tan solo por detrás del gran "Fresh Fruit for Rotting Vegetables" de los Dead Kennedys. A pesar del éxito del disco, en el grupo empieza pronto una desbandada de sus miembros ese mismo año y muchos de los integrantes empiezan a formar otras bandas.
Ya en 1986 el grupo decide volver a reunirse con su formación original para grabar lo que seria su segundo disco, pero justo antes de grabar varios miembros vuelven a abandonar el proyecto
Tras muchos cambios de formación el grupo consigue grabar 2 nuevos discos antes de disolverse
de nuevo,
"Brats in Battalions"
(1987) y
"Balboa Fun Zone"
(1988).
En 2001, mas de 10 años después de su separación, el grupo vuelve a reunirse para la conmemoración del 20 aniversario de su primer disco y empiezan a girar de nuevo, con formaciones muy variables, con tan solo 3 miembros originales Tony Soto, Steve Cadena y Frank Agnew.
El grupo graba en 2005 su primer disco desde su separación en 1989 al que llamaron,
"O.C. Confidencial"
, bajo la discográfica Finger Records.
Discografía
01- Welcolme To Reality (EP)
1. Welcome to Reality
2. Losing Battle
3. Things Start Moving
02- Adolescents (1981)
1. I Hate Children
2. Who Is Who
3. Wrecking Crew
4. L.A. Girl
5. Self Destruct
6. Kids of the Black Hole
7. No Way
8. Amoeba
9. Word Attack
10. Rip It Up
11. Democracy
12. No Friends
13. Creatures
03- Brats In Battalions (1987)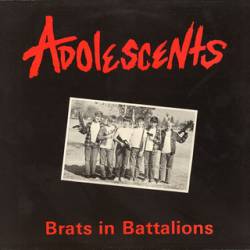 1. Brats in Battalions
2. I Love You
3. The Liar
4. Things Start Moving
5. Do the Freddy
6. Losing Battle
7. House of the Rising Sun
8. Peasant Song
9. Skate Babylon
10. Welcome to Reality
11. Marching with the Reich
12. I Got a Right
13. She Wolf
04- Balboa Fun * Zone (1984)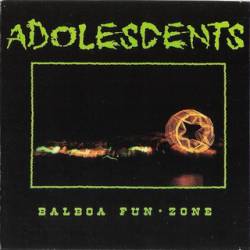 1. Balboa Fun Zone (Riot on the Beach)
2. Just Like Before
3. Instant Karma
4. Alone Against the World
5. Allen Hotel
6. Frustrated
7. Genius in Pain
8. It's Tattoo Time
9. 'till She Comes Down
10. Modern Day Napoleon
11. I'm a Victim
12. Balboa Fun Zone (It's in Your Touch)
13. Runaway
14. She Walks Alone
15. Surf Yogi
05- Unwrap and Blow Me (EP) (2004)
1. Hawks & Doves
2. Where the Children Play
3. California Son
4. O.C. Confidential
5. Pointless Teen Anthem
6. Within These Walls
06- O.C. Confidential (2005)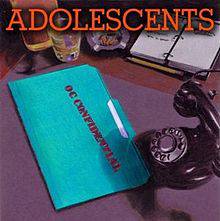 1. Hawks and Doves
2. Lockdown America
3. Where the Children Play
4. California Son
5. Guns of September
6. Pointless Teenage Anthem)
7. Death on Friday
8. Into the Fire
9. Within These Walls
10. Let It Rain
11. O.C. Confidential
12. Monsanto Hayride
13. Find a Way
07- Naughty Women in Black Sweaters - The Complete Demos 1980-1986 (2005)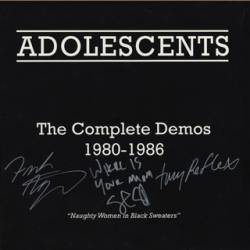 1. We Can't Change the World
2. Black Sheep
3. Growing Up Today
4. We Rule and You Don't
5. I Hate Children
6. No Friends
7. Who Is Who
8. Wrecking Crew
9. Wrecking Crew
10. Creatures
11. Amoeba
12. Self Destruct
13. Do the Eddie
14. Richard Hung Himself
15. The Liar
16. The Peasant Song
08- The Fatest Kid Alive (2011)
1. Operation FTW
2. Inspiration
3. Wars Aren't Won, Wars Are Fought
4. One Nation, Under Siege
5. Babylon by Bomb
6. Too Fast, Too Loud
7. Learning to Swim
8. Can't Change the World with a Song
9. Orange Crush
10. Serf City
11. Jefferson Memorial Dance Revolution
12. Tokyo au Go-Go
13. No Child Left Behind
14. Branded
15. Peace Don't Cost a Thing
09- American Dogs In Europe (EP) (2012)
1. American Dogs in Europe
2. Conquest of the Planets of the See Monkeys
3. Stage Diving Daisy's Revenge
4. Destination Nowhere
10- Presumed Insolent (2013)
01. The Athena Decree
02. Conquest Of The Planet Of The See Monkeys
03. Forever Summer
04. Riptide
05. In This Town Everything Is Wonderful
06. Big Rock Shock
07. Dissatisfaction Guaranteed
08. Presumed Insolent
09. Broken Window
10. 300 Cranes
11. Snaggletooth And Nail
12. Daisy's Revenge
13. Tic Tac At The Alligator Tree

11- La Vendetta (2014)
01. Monolith At The Mountlake Terrace
02. A Dish Best Served Cold
03. Bulletproof
04. Double Down
05. Fukushima Lemon Twist
06. The Last Laugh
07. 30 Seconds To Malibu
08. Silent Water
09. Talking To Myself
10. Formula 13
11. Rinse Cycle
12. Ricochet Heart
13. Nothing Left To Say
14. Sludge
15. Sanctuary & The High Coast Of Misery
16. Let It Go
01- Queen Of Denial
02- Quicksand Blaster
03- Flat Earth Stomp
04- Just Because
05- Sunspot Screams
06- Alice On Wonderbread
07- Disease
08- Cropduster
09- Gazetteer
10- Nuclear Football
11- Choke And Killswitch System
12- Miranda Panda
13- 5150 Or Fight
14- Paradigm Bag Junkies
15- Black Kiss
16- Digital Toybox
17- Room 223
18- Prey For Armageddon