Dag Nasty es un grupo estadounidense de hardcore melódico de mediados de los 80s, formado por Brian Baker, ex-bajista de Minor Threat, contemporáneos de otras agrupaciones similares como Bad Religion y Descendents. El nombre proviene de una expresión del slang utilizada para referirse a algo desagradable o en una expresión positiva.
Dag Nasty se formó en 1985 por Brian Baker —ex-Minor Threat— junto a Colin Sears, Roger Marbury —ambos ex-Bloody Manequin Orchestra—, y Shawn Brown, formación con la que se grabó un demo y material que posteriormente sería publicado en el álbum recopilatorio
"85-86"
, tiempo después Brown saldría de la banda, siendo reemplazado por Dave Smalley, roadie de la banda y ex-vocalista de DYS, con quien grabaran el primer álbum titulado
"Can I Say"
en 1986, contando con la producción de Ian MacKaye. El año siguiente Smalley decide abandonar la banda para continuar su educación en Israel, varios fueron los prospectos para ocupar la vacante, uno de ellos siendo Kevin Seconds, vocalista de 7 Seconds. Finalmente Peter Cortner se integra como vocalista, junto a Cortner, Doug Carrion, ex-Descendents, se incorpora como bajista para grabar Wig Out at Denko's.
En 1988 es lanzado
"Field Day"
en Giant Records, con Scott Garret sustituyendo a Sears, debido a un quiste en la mano que le impedía tocar la batería, de manera temporal London May, de la agrupación Samhain, ocupó el puesto. El álbum se caracterizó por el sonido cargado de melodías pop mezcladas con elementos del hardcore y metal. Posterior al lanzamiento de Field Day la banda se desintegra, ya que Baker decide unirse a la banda Junkyard, de igual manera, los demás miembros siguen sus pasos al formar otros proyectos.
"Four on the Floor"
es editado en 1992 tras la reunión de Dag Nasty, contando con el regreso de Smalley tras el micrófono, Sears como baterista y Marbury como bajista, Baker aparece como Dale Nixon en los créditos ya que en ese entonces se encontraba bajo contrato con Junkyard. El álbum fue producido por Brett Gurewitz y lanzado por Epitaph Records. Posteriormente, tras la breve reunión, Baker ocupa el lugar de Gurewitz en Bad Religion.
Es hasta el 2002 que la banda vuelve a reunirse, grabando en ésta ocasión
"Minority of One"
, álbum lanzado por Revelation Records, al mismo tiempo, Dischord re-edita "Can I Say" y
"Wig Out at Denko's"
, incluyendo material extra como versiones alternativas y grabaciones en vivo. Desde entonces, Dag Nasty se mantiene como un proyecto paralelo de sus integrantes, motivo por el cual no se realizó gira promocional para las grabaciones realizadas en 1992 y 2002.
01- Can I Say (1986)
03. Circles
04. Thin Line
05. Justification
06. What Now?
07. I've Heard
08. Under Your Influence
09. Can I Say
10. Never Go Back
11. Another Wrong (Bonus Track)
12. My Dog's A Cat (Bonus Track Live)
13. I've Heard (Bonus Track Live)
14. Another Wrong (Bonus Track Live)
15. Trying (Bonus Track Live)
16. Justification(Bonus Track Live)
01. The Godfather
02. Trying
03. Safe
04. Fall
05. When I Move
06. Simple Minds
07. Wig Out At Denko's
08. Exercise
09. Dag Nasty
10. Crucial Three
11. Safe (Mango Session) (Bonus Track)
12. Trying (Mango Session) (Bonus Track)
13. Fall (Mango Session) (Bonus Track)
14. Roger (Mango Session) (Bonus Track)
15. Mango (Mango Session) (Bonus Track)
16. When I Move (Live Acoustic Version) (Bonus Track)
17. I've Heard (Live Acoustic Version) (Bonus Track)
03- Field Day (1988)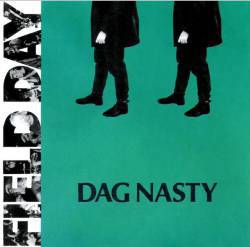 1. Trouble Is
2. Field Day
3. Things That Make No Sense
4. The Ambulance Song
5. Staring at the Rude Boys (The Ruts Cover)
6. 13 Seconds Underwater
7. La Penita
8. Dear Mrs. Touma
9. Matt
10. I've Heard
11. Under Your Influence
12. Typical
13. Here's to You
14. 16 Count
15. Never Green Lane
16. You're Mine
17. All Ages Show
18. 12XU (Wire Cover)
1. Another Wrong
2. Circles
3. Can I Say
4. I've Heard
5. Never Go Back
6. Justification
7. Under Your Influence
8. Trying (live)
9. Moni-Q (live)
10. Fall
11. Trying
12. All Ages Show
13. Safe
14. Mule
15. My Dog Is A Cat
16. Another Wrong II
05- Four On The Floor (1992)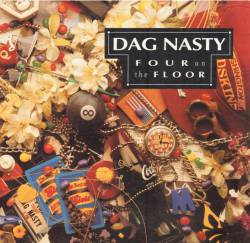 1. Still Waiting
2. Going Down
3. Turn It Down
4. Million Days
5. Roger
6. SFS
7. We Went Wrong
8. Down Time
9. Lie Down and Die (UK Subs Covers)
10. Mango
06- Minority Of One (2002)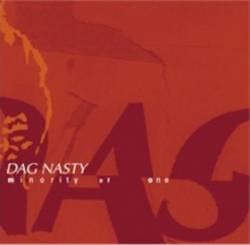 1. Ghosts
2. Minority of One
3. Bottle This
4. Broken Days
5. Your Words
6. Incinerate
7. Throwing Darts
8. White Flag
9. Twisted Again
10. Average Man
11. Wasting Away
12. Secret Track
07- Dag With Shawn (2010)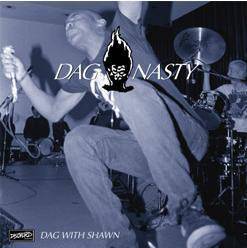 1. Under Your Influence
2. I've Heard
3. Justification
4. Circles
5. Can I Say
6. Thin Line (Ragu)
7. Never Go Back
8. Another Wrong
9. One to Two
08- Cold Heart (EP) (2016)
01- Cold Heart
02- Wanting Nothing