Municipal Waste es una banda estadounidense de crossover thrash formada en la ciudad de Richmond, en el estado de Virginia.
Esta banda es conocida por sus canciones de corta duración que tratan temas como el alcohol, las fiestas, la diversión en general y los mutantes post-apocalípticos.
Entre sus principales influencias están bandas como Metallica, Suicidal Tendencies, D.R.I, Nuclear Assault y Anthrax, entre otros.
La banda se formó en el año 2001. Con Tony "Guardrail" Foresta en la voz, el guitarrista Ryan Waste, Andy Harris en el bajo y el baterista Brendan Trache, la banda edita ese año su primer trabajo, titulado
"Municipal Waste"
.
Un cambio de formación sucede en 2002 cuando Trache abandona a la banda, y es reemplazado en la batería por Brandon Ferrell. Después de este cambio, publican
"Tango and Thrash"
, antes de grabar su primer disco,
"Waste 'em all"
, para la discográfica Six Week Records, en 2003.
En el año 2004 ingresan a la banda dos nuevos miembros, el baterista Dave Witte y el bajista Phillip "Land Phil" Hall, y en el 2005 Municipal Waste firma con otra discográfica, Earache Records, y graban el álbum
"Hazardous Mutation"
. A finales del 2005 Municipal Waste saca a la luz el video para Unleash The Bastards, track de este disco.
En el 2006 Municipal Waste tocó con Sick Of It All, alrededor de Europa, y también lo hizo en Australia. Un año después la banda editó el disco
"The Art of Partying"
y luego tocaron en el prestigioso Reading and Leeds Festival, un festival de música que se da en Inglaterra. También se unieron a At The Gates en su "Suicidal Final Tour" junto con Toxic Holocaust, Darkest Hour y Repulsion.
En agosto de 2009 lanzaron su disco
"Massive Aggressive"
. Según el baterista Dave Witte, este ha sido el mejor disco que la banda ha grabado hasta la fecha. Poco tiempo después la banda publicó el video de una canción de este disco titulada Wrong Answer, y emprende una gira que los llevó incluso por algunos países de Sudamérica.
Su último trabajo es
"The Fatal Feast"
, lanzado en 2012. También se publicaron los videos pertenecientes a las canciones You're Cut Off, Repossession y The Fatal Feast.
01- Municipal Waste (EP) (2001)
1. Thrashin's My Business...And Business Is Good
2. Detention Mosh Session
3. Ratbite
4. Rock-Hatchet-Knife
5. Floor Score
6. CxMxDx
02- Crucial Unit + Municipal Waste (Split) (2002)
01- Crucial Unit - Five Inches Of Oppression
02- Crucial Unit - I Scream, You Scream, We All Scream For No Screamo
03- Crucial Unit - Nine Hundred Samosas
04- Crucial Unit - Wall Of Death The Chain Of Life
05- Crucial Unit - I Heard That Mayday Was A Riot
06- Crucial Unit - Scrabble Punx
07- Crucial Unit - Million Dollar Thrash Song
08- Crucial Unit - This Machine Kills Buffets
09- Crucial Unit - Thrashaholics Unanimous
10- Municipal Waste - The Garbagestomp (intro) - Poser Disposer
11- Municipal Waste - Wicked Fit
12- Municipal Waste - Chemical Artillery (The Toxic Survival)
13- Municipal Waste - Insurance Fraud
14- Municipal Waste - Scantron Slamathon (Detention Mosh Session Part 2)
15- Municipal Waste - Born To Party
16- Municipal Waste - Abusement Park
17- Municipal Waste - Percy's Trip To Dentist
18- Municipal Waste - Haunted Junkyard
03- Tango And Thrash - Hamster Ball People Of Earth (Municipal Waste + Bad Acid Trip - Split EP) (2002)
01- Municipal Waste - Escape from New York (Intro)
02- Municipal Waste - Captain Ron (Overboard)
03- Municipal Waste - Backdraft
04- Municipal Waste - Tango And Thrash
05- Bad Acid Trip - You're No Bigger Then What Annoys You
06- Bad Acid Trip - Eptar Le Gourgeois
07- Bad Acid Trip - Eptar le Gourgeois
08- Bad Acid Trip - Hamster Ball People Of Earth
04- Dark Thoughts (A Tribute To COC) (Municipal Waste + What Happen Next + Houlier Than Thou + Caustic Christ - Split EP) (2003)
01- What Happen Next - Prayer
02- Holier Than Thou - Citizen + Not For Me
03- Caustic Christ - Rabid Dogs
04- Municipal Waste - Intervention
05- Municipal Waste - Minds Are Controlled
05- Waste 'Em All (2003)
. Intro / The Executioner
2. Sweet Attack
3. Mutants of War
4. Knife Fight
5. Drunk As Shit
6. Death Prank
7. Substitute Creature
8. Waste 'Em All
9. Toxic Revolution
10. I Want to Kill the President
11. Thrash ?! Don't Mind If I Do
12. Dropped Out
13. Blood Hunger
14. Jock Pit
15. The Mountain Wizard
16. Bonus Track
06- Live At Lintfabriek Kontich (Live) (2004)
1. Intro
2. Waste'Em All
3. Abusement Park
4. Toxic Revolution
5. I Want to Kill the President
6. Mountain Wizard
7. Born to Party
8. Slow Death (The Accüsed Cover)
9. Death Ripper
07- Louder Than Hell (Municipal Waste + Hirax + The Accused + Toxic Narcotic + Voetsek - Split EP) (2005)
01- Hirax - Hostile Territory
02- The Accused - Take My Time
03- Toxic Narcotic - Get The Gun
04- Municipal Waste - Mind Eraser
05- Voetsek - Butcher II,The Tormentor
08- Hazardous Mutation (2005)
1. Deathripper
2. Unleash the Bastards
3. The Thing
4. Blood Drive
5. Accelerated Vision
6. Guilty of Being Tight
7. Set to Destruct
8. Hazardous Mutation
9. Nailed Casket
10. Abusement Park
11. Black Ice
12. Mind Eraser
13. Terror Shark
14. The Thrashin' of the Christ
15. Bang Over
09- Live At Alley Katz (Live) (2006)
01. Deathripper
02. Drunk as Shit
03. Mind Eraser
04. Unleash the Bastards
05. The Thrashing of the Christ
06. Sweet Attack
07. Mutants of War
08. Blood Drive
09. Accelerated Vision
10. New Song
11. Terror Shark
12. Toxic Revolution
13. Substitute Creature
14. Waste Them All
15. Bang Over
10- The Art Of Partying (2007)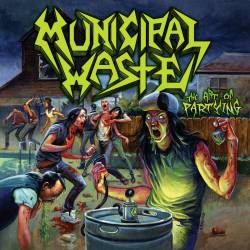 1. Pre-Game
2. The Art of Partying
3. Headbanger Face Rip
4. Mental Shock
5. A.D.D. (Attention Deficit Destroyer)
6. The Inebriator
7. Lunch Hall Food Brawl
8. Beer Pressure
9. Chemically Altered
10. Sadistic Magician
11. Open Your Mind
12. Radioactive Force
13. Septic Detonation
14. Rigorous Vengeance
15. Born to Party
16. Thrashing's My Business... and Business Is Good
17. I Just Wanna Rock
11- Massive Agressive (2009)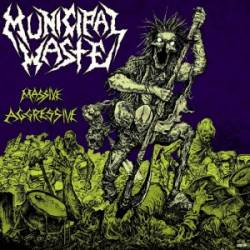 1. Masked by Delirium
2. Mech-Cannibal
3. Divine Blasphemer
4. Massive Aggressive
5. Wolves of Chernobyl
6. Relentless Threat
7. The Wrath of the Severed Head
8. Upside Down Church
9. Shredded Offering
10. Media Skeptic
11. Horny for Blood
12. Wrong Answer
13. Acid Sentence
12- Religion Proof (Single) (2012)
01- Relgion Proof
13- Toxic Waste - Municipal Waste + Toxic Holocaust (Split EP) (2012)
01- Municipal Waste - Trapped In The Sites
02- Municipal Waste - Mourning Sex
03- Toxic Holocaust - We Bring 'Em Hell
04- Toxic Holocaust - Altar-ed States
14- Scion A/V Presents Municipal Waste (EP) (2012)
1. Repossesion
2. Garbage Stomp / Poser Disposer
15- The Fatal Feast (2012)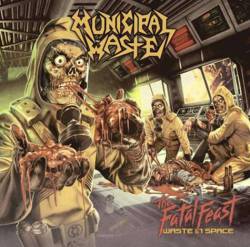 01. Waste in Space (Main Title)
02. Repossession
03. New Dead Masters
04. Unholy Abductor
05. Idiot Check
06. Covered in Sick/The Barfer
07. You're Cut Off
08. Authority Complex
09. Standards and Practices
10. Crushing Chest Wound
11. The Monster With 21 Faces
12. Jesus Freaks
13. The Fatal Feast
14. 12 Step Program
15. Eviction Party (Bonus Track)
16. Death Tax
17. Residential Disaster
16- Slime And Punishment (2017)
01- Breathe Grease
02- Enjoy The Night
03- Dingy Situations
04- Shrednecks
05- Poison The Preacher
06- Bourbon Discipline
07- Parole Violators
08- Slime And Punishment
09- Amateur Sketch
10- Excessive Celebration
11- Low Tolerance
12- Under The Waste Command
13- Death Proof
14- Think Fast