DeeCracks es una banda punk formada en Klagenfurt, Austria en 2003. Inicialmente el grupo se llamaba The Cretins, pero por motivos legales se vieron obligados a cambiar el nombre en 2007 y a partir de entonces pasaron a llamarse DeeCracks.
Aportado al blog por PuNKiTa
01- 10 Track Demo (The Cretins) (2004)
3.Gimme Gimme Shock Treatment
4.Another Time Bomb
5.Get Away
6.Your Heroes
7.Turn
8.It's Gonna Be A Blast
9.Hound Dog
10.Ramona
02- The Cretins (The Cretins) (2007)
1.gimme gimme plastic surgery
2.be around for nothing
3.t.c.a.o.t.
4.i don't want to go home
5.john st.
6.meriwether is giving up
7.i need a nurse
8.i can't make it on time
9.leaving home
10.i have enough
11.ramona
12.life goes by
13.i'm not the only one
14.it's gonna be a blast
15.i don't want you around
16.c.r.e.t.i.n.s.
03- Beach 90 (EP) (2009)
1.my baby quit rehab
2.beach 90
3.she is electrifying
4.don't talk to me
04- Totally Cracked! (EP) (2009)
1. My Baby Quit Rehab
2. Turn up your Radio
3. VW T4
4. She's Gonna Kill you
5. Beach 90
6. Whatever Happened to my Brain
7. I Killed my TV Set
8. Give A Little Love
05- Attention! Deficit Disorder (2010)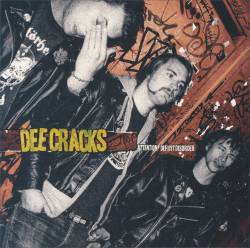 1. I Wanted It All
2. Monkey Boy
3. Not Another Minute
4. The Hangover Hop
5. Waiting for You
6. Ritalin for Lunch
7. It Has Always Been This Way
8. Gimme Gimme Plastic Surgery
9. Dairy Queen King
10. She Met a Brat
11. I Need a Nurse
12. Ratface
13. Radioactive Kiss
14. I See You Around
06- DeeCracks + 7 Years Bad Luck (Split EP) (2012)
01- DeeCracks - The Re-Generation
02- DeeCracks - I Don't Want To Go Home (2010 A.D.S. Session)
03- 7 Years Bad Luck - Delirium
04- 7 Years Bad Luck - A Drink In The Sun
07- Live Studio Split with The Murderburgers (Only DeeCracks Songs) (2012)
1. the regeneration & monkey boy
2.not another minute
3.my baby quit rehab
4.i wanted it all
5.beach 90
6.hangover hop
7.i see you around
08- DeeCracks Mania (The Best Of) (2013)
1.the re-generation
2.i wanted it all
3.monkey boy (attention!
4.my baby quit rehab
5.turn up your radio
6.beach 90
7.i killed my tv set
8.you messed my head up
9.it has always been this way
10.gimme gimme plastic surgery
11.c.r.e.t.i.n.s.
12.not another minute (live)
13.the hangover hop (live)
14.this ain't hawaii (screeching weasel cover)
15.she belongs to me (amones cover)
16.back to you (riverdales cover)
17.you make me crazy (nikki and the corvettes cover)
09- The Smile Of The Tiger - DeeCracks + The New Rochelles (Split EP) (2013)
01- DeeCracks - Let's Get Outta Here
02- DeeCracks - She Belongs To Me (Ramones Cover)
03- The New Rocheless - Cuidado
04- The New Rocheless - Nightcrawler
10- Call It A Day (EP) (2013)
01- Rat In A Trap
02- Bloody Belgium
03- You Messed My Head Up
04- Weekend
11- Adderall (EP) (2014)
01- Adderall
02- One And A Million Miles
03- Banana Brain (Mugwumps cover)
04- Beach 90 (acoustic version)
12- Beyond Medication (2014)
01- Todo El Mundo Está Enamorado
02- Dead End Mission
03- Terminal Deadness
04- Charite Forever
05- Let's Get Locked Away
06- Down Out And Low
07- Adderall
08- Don't Rely On Me
09- Nothing Matters
10- Move On
11- No Way Back
12- Please Hold On
13- Crazy Girl
14- Summer's Gone
15- Stroll The Streets
Descargar: https://mega.nz/#!enpmiSRQ!1BE2mn1rArHGowBtkYlWh_EGyKZHAaNM4Wwi67894PI
13- Behind The Spotlight (Dee Dee King Tribute Split EP with Zatopeks) (2014)
01- DeeCracks - Brooklyn Babe
02- DeeCracks - Poor Little Rich Girl
03- Zatopeks - Mashed Potato Time
14- Reconsider Fisto (Split with The Windowsill) (2015)
01- The Windowsill - Around '97
02- The Windowsill - Lonely Nights
03- The Windowsill - Moonlit Sky
04- The Windowsill - Silently Said Goodbye
05- DeeCracks - Metal Mind
06- DeeCracks - For All That
07- DeeCracks - Humanize Me
08- DeeCracks - Get It Right
15- Greatest Hits (China Tour Edition) (2015)
10- One And A Million Miles
11- You Messed My Head Up
01- The King Kong Stomp (Groovie Ghoulies-Gene Moss Cover)
02- New York Girl (Johnie 3 Cover)
03- This Ain't Hawaii (Screeching Weasel Cover)
04- I'm About To Crack (Methadones Cover)
05- Caroline
06- I Need To Know (Tom Petty cover)
17- They Don't Know (feat. Nikki Corvette) (EP) (2017)
01- They Don't Know
02- 7 Days A Week
18- Totally Cracked! (Compilation) (2017)
01- My Baby Quit Rehab
02- I Killed My TV Set
03- Turn Up Your Radio
04- Beach 90
05- Give A Lil' Love
06- She's Electrifying
07- She's Gonna Kill You
08- VW T4
09- Whatever Happened To My Brain
10- Don't Talk To Me
11- King Kong Stomp (Goovie Ghoulies cover)
12- I Need To Know (A Tribute For Tom Petty) (Bonus Track)
Descargar: https://mega.nz/#!LJoESAYT!3YhmoHb4OF1BKHuSA1T2T7J-5qltyjWofsdVUh5ywuY
19- Japan Tour (EP) (2018)
01- Getting By
02- 7 Days A Week (feat. Nikki Corvette)
03- They Don't Know (Demo)
04- Good Enough
Descargar: https://mega.nz/#!LRhGkQ5K!2PsWyDrIGFTyIwqXdu7ICiBaaJIKV4L4dgo9VC4UOgY
20- Sonic Delusions (2018)
01- Standing On My Head
02- Step 4
03- Mentalane
04- All Along
05- Left Out Of Mind
06- Shambles
07- Montreal Nights
08- Mexican Stand-Off
09- It's Been A While
10- Watch Out
11- On Your Own
12- Substitute
13- Holiday Season
14- Valentine
15- Turn Away
16- Do Anything You Wanna Do
Descargar: https://mega.nz/#!OQ5gyS5Z!7mQluACR3CZ33a8lFCF9S8q9N5e8Rmd-1J3TseYroaY