Screeching Weasel es una banda de punk rock formada en Chicago, Illinois, en el año 1986 por Ben Weasel y John Jughead. La banda, tras varias rupturas, anunció en 2004 su retirada después de lanzar 11 álbumes de estudio en su carrera.
La banda se forma en 1986 después de que Ben Foster y John Pierson asistieron un concierto de Ramones. La primera alineación estaba compuesta por Ben Weasel (Ben Foster) voz y bajo, John Jughead (John Pierson) guitarra y coros y contratan al baterista Steve Dubick el cual pasa por el alias Steve Cheese.
En un principio la banda se iba a llamar The Cupcake Snakes pero cambian el nombre a Screeching Weasel, variación de Screaming Otter, recomendación de un amigo. Poco después de la formación, ingresa Vince Vogel (Vinnie Bovine) en el bajo ya que Ben Weasel decide que tocar el bajo y cantar al mismo tiempo es muy difícil. Graban su primer álbum,
"Screeching Weasel"
, bajo el sello de Underdog Records en 1987.
En 1988 despiden a Vinnie Bovine el cual es remplazado por Warren Fischer (Fish) de la banda Ozzfish. Graban su segundo Album
"Boogadaboogadaboogada"
en el cual Ben toca la segunda guitarra y se hacen un nombre teloneando a Operation Ivy.
Se les considera los precursores del punk pop que volvió a gozar del auge a comienzos de la década de los 90, especialmente en California. Algunas bandas que protagonizaron ese auge como Green Day y Blink-182, y otras como The All-American Rejects, citan a Screeching entre sus influencias principales. Precisamente en Green Day permanece Mike Dirnt, bajista de Screeching en 1994. En sus comienzas se caracterizaban por un estilo similar al Hardcore punk con un mensaje totalmente apático, anticonformista, y hasta de carácter político. Sin embargo con el pasar de los años la banda fue evolucionando a un sonido más variado atravesando sonidos basados en el Punk rock básico de los Ramones o al punk pop similar al que tocaban Descendents, junto con un sonido más elaborado y letras más personales.
En 2009 se volvieron a reunir para realizar una gira por Estados Unidos aunque no hay previsión de que esto suponga una reunión definitiva del grupo.
Aportado al blog por PuNKiTa
01- Screeching Weasel (1987)
1. Say No! to Authority
2. Wanna Die
3. Society
4. California Sucks
5. Murder in the Brady House
6. I Can't Stand Myself
7. My Song
8. High Ambitions
9. March of the Lawmowers
10. Leave Me Alone
11. Don't Touch My Car
12. 7-11
13. Cows
14. Work
15. Wavin Gerbs
16. Liar
17. O.M.W.
18. Clean-Cut Asshole
19. Raining Needles
20. BPD
21. Experience the Ozzfish
22. Jockpunk
23. K-Mart Blues
24. Bates Hotel
25. Hardcore Hippie
26. What Is Right
27. Yeah Baby!
28. In the Hospital
29. I Feel Like Shit
30. I Hate Led Zeppelin (Demo Version)
31. American Suicide (Demo Version)
32. A Political Song for Screeching Weasel to Sing
33. Twinkie Warfare
34. Stoned and Stupid
35. Life Sucks (And So Do You)
36. I Wanna Be Naked!
37. My Right (Demo Version)
38. Hey, Suburbia (Demo Version)
39. Ashtray (Demo Version)
02- Boogadaboogadaboogada (1988)
1. Dingbat
2. Love
3. Zombie
4. This Ain't Hawaii
5. We Skate
6. Police Insanity
7. Stupid Over You
8. Runaway
9. I Hate Led Zeppelin
10. My Right
11. Nicaragua
12. Sunshine
13. I Wanna Be Naked
14. Ashtray
15. American Suicide
16. Psychiatrist
17. Mad at the Paper Boy
18. I Love to Hate
19. More Problems
20. Supermarket Fantasy
21. Holy Hardcore
22. Professional Distribution
23. Used Cars
24. Hunter
25. I Believe in UFOs
26. Hey Suburbia
03- My Brain Hurts (1991)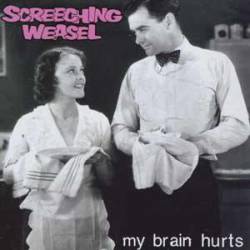 1. Making You Cry
2. Slogans
3. Guest List
4. Veronica Hates Me
5. I Can See Clearly
6. Cindy's on Methadone
7. The Science of Myth
8. What We Hate
9. Teenage Freakshow
10. Kamala's Too Nice
11. Don't Turn Out the Lights
12. Fathead
13. I Wanna Be with You Tonight
14. My Brain Hurts
04- Ramones (1992)
1. Blitzkrieg Bop
2. Beat on the Brat
3. Judy Is a Punk
4. I Wanna Be Your Boyfriend
5. Chainsaw
6. Now I Wanna Sniff Some Glue
7. I Don't Wanna Go Down to the Basement
8. Loudmouth
9. Havana Affair
10. Listen to My Heart
11. 53rd & 3rd
12. Let's Dance
13. I Don't Wanna Walk Around With You
14. Today Your Love, Tomorrow the World
05- Wiggle (1993)
1. Hanging Around
2. I'm Not in Love
3. One Step Beyond
4. I Was a High School Psychopath
5. Crying in My Beer
6. Slomotion
7. Like a Parasite
8. Joanie Loves Johnny
9. Second Floor East
10. Automatic Rejector
11. Jeannie's Got a Problem with Her Uterus Sad Little Girl
12. Sad Little Girl
13. Ain't Got No Sense
14. It's All in My Head
15. Teenage Slumber Party
16. Danny Is a Wimp
17. Going Home
18. Fuck The World
06- Anthem For A New Tomorrow (1993)
1. I'm Gonna Strangle You
2. Falling Apart
3. Leather Jacket
4. Rubber Room
5. Talk to Me Summer
6. Inside Out
7. Peter Brady
8. I, Robot
9. Every Night
10. Totally
11. Three Sides
12. I Don't Wanna Be Friends
13. Cancer in My Body
14. Thrift Store Girl
15. Panic
16. Trance
17. Claire Monet
18. A New Tomorrow
07- How To Make Enemies And Irritate People (1994)
1. Planet of the Apes
2. 99
3. I Hate Your Guts on Sunday
4. Johnny Are You Queer?
5. Time Bomb
6. Burnout Girl
7. If I Was You
8. Nobody Likes You
9. Degenerate
10. Surf Goddess
11. Kathy Isn't Right
12. Kathy's on the Roof Again
13. I Wrote Holden Caulfield
08- Bark Like a Dog (1996)
1. Get Off My Back
2. Cool Kids
3. The First Day of Summer
4. You'll Be In My Dreams Today
5. You Blister My Paint
6. Stupid Girl
7. Phasers on Kill
8. Handcuffed to You
9. (She Got) Electroshocked
10. It's Not Enough
11. I Will Always Be There
12. Your Name I Tattooed On My Heart
09- Formula 27 (EP) (1997)
01 - (Nothing's Gonna) Turn Me Off
02 - Pretty Girls Don't Talk To Me
03 - I Don't Care Anymore
04 - Why'd You Have To Leave
10- Television City Dream (1998)
1. Count to Three
2. Speed of Mutation
3. Dummy Up
4. Video
5. Your Morality
6. Dirty Needles
7. Punk Rock Explained
8. Breaking Point
9. My Own World
10. Outside of You
11. We Are Generation X
12. Identity Crisis
13. The First Day of Winter
14. Crybaby
15. Shut The Hell Up
16. Plastic Bag
17. I Don't Give a Fuck
18. Only a Test
19. Pervert at Large
20. Burn It Down
11- Emo (1999)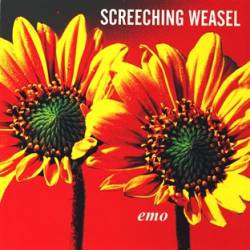 1. Acknowledge
2. Sidewalk Warrior
3. Static
4. The Scene
5. Let Go
6. Regroup
7. Passion
8. Linger
9. Last Night
10. 2-7 Split
11. On My Own
12. Bark Like a Dog
12- Teen Punks In Heat (2000)
1. Bottom of the 9th
2. Gotta Girlfriend
3. Too Worked Up
4. I'll Stop the Rain
5. I Love You
6. Molecule
7. 21 Months
8. The First Day of Autumn
9. Erection
10. I Will Always Do
11. You're the Enemy
12. Wanna Fuck
13. Cat-Like
14. Pauline
15. Things Seem All Fucked Up Today
16. Message in a Beer Bottle
17. You're Sorry Now
18. Don't Want it
19. Six Percent
20. The Edge of the World
13- First World Manifesto (2011)
1. Follow Your Leaders
2. Frankengirl
3. Beginningless Vacation
4. Dry Is the Desert
5. Totem Pole
6. Creepy Crawl
7. Three Lonely Days
8. Friday Night Nation
9. All Over Town
10. Fortune Cookie
11. Baby Talk
12. Come and See the Violence Inherent in the System
13. Bite Marks
14. Little Big Man